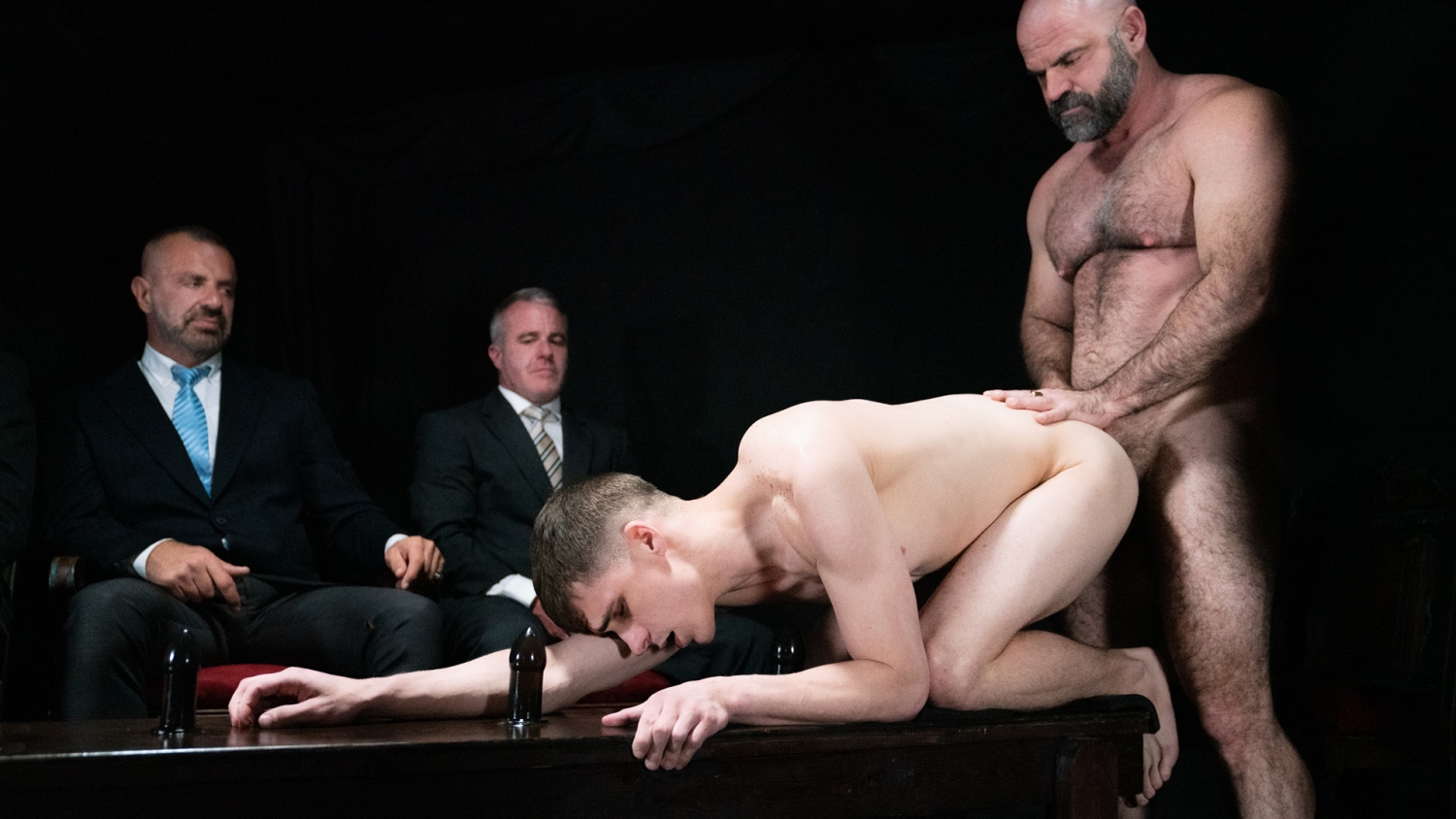 APPRENTICE RYAN : Chapter 4
Atonement
Apprentice Ryan's body shook like a leaf as he bent over the bench. He looked at the dark, glistening knobs beneath him, a sort of trail of where he had come from. He felt Grandmaster Angus' big, hairy hands on his worn out ass, caressing him and soothing him as he stared down at the objects of his atonement.
The first few ...
Read more
The first few plugs stretched him out fine, with only a modest amount of struggle before he found himself pleased with his own capability. But the last two did him in, stretching him beyond what he could handle, leaving him a shaking, weakened wreck. He tried to muster up the strength to continue, but alas, he had to bow out, leaving the final and largest plug unconquered.
As a result, Grandmaster Angus had to give him his punishment. Ryan didn't know what was coming. He knew the leaders had strange methods of keeping initiates in line, but he was fortunate to have had to experience them all. As he awaited his fate, he took the time to catch his breath, steeling himself Angus' plans, even allowing himself to find pleasure in the soft touches to his ass.
Ryan felt a warm tongue on his hole, a much needed salve on his weary insides. He let out soft moans, grateful for the gentle massage and relaxation. He wanted to look back, but he was told to keep his eyes forward and his hands on the bench, locking himself in place for what was to come.
His ears were careful to pick up on the sound of clothes rustling and falling behind him. Grandmaster Angus was slowly removing his shirt and pants, stripping down to just his undergarments as Apprentice Ryan obeyed his orders. The young man didn't know how much further he would go, but suddenly and without warning, he felt something slip into his searing hot hole.
At first, Ryan feared it was another plug, aimed at splitting him apart and making him suffer. Instead, it was the familiar, smooth, girthy member of Grandmaster Angus.
The bare cock slid inside him with a single thrust, not hesitating or stopping. Apprentice Ryan was well warmed up enough to handle the older man's member, his hole loose enough to breed but still tight enough to grip. Instinctively, the young man clenched down on Angus' cock, as if subconsciously wanting to milk him of the load he carried in his hairy, hanging nuts.
As Apprentice Ryan became accustomed to the fucking, he found his cock beginning to harden and leak out a steady stream of precum. It dripped down onto the dark wood bench, pooling up and streaking as his body rocked back and forth.
Bishop Angus took his hands around Ryan's neck, holding him in place with a firm grip without choking him. Though, as Angus' breeding thrusts increased in pace and intensity, the burly man's grip occasionally tightened, giving Ryan a thrilling feeling of submission and powerlessness.
Apprentice Ryan learned from the masters that in the temple, his body was not his own. It belonged to the men of the Order to use as the pleased. Never more than in that moment did that sentiment ring true. Ryan felt himself a passenger in his flesh, his consciousness simply an occupant of the vessel that Bishop Angus controlled and owned. He belonged to him, bouncing on the end of his cock with his neck in a vice grip, feeling his insides shift to make room for the throbbing member of the older man.
Bishop Angus felt himself approaching climax. As he did, he squeezed Ryan's neck a little tighter. The excitement was enough to send bursts of energy to his loins, causing a chain reaction that led to the eruption of his prostate. Jets of hot, white cum sprung from his cock, filling up the apprentice's hole as he struggled to stay upright and still.
Ryan breathed deep, feeling the milky load swirling in his guts, stirred up by Angus' declining erection, moving deeper in his body. Ryan couldn't believe he could take it after all he'd endured, but he was proud of himself for holding out until the end...